RATED SUNSHINE COAST'S NUMBER ONE DOG TRAINER!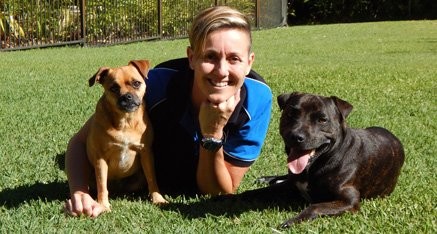 Welcome to Kat's 4 Dogs, Dog Training Noosa & Dog Trainer Sunshine Coast
Dog Training Sunshine Coast area only.
Is your dog making life difficult for you and your family?
Do you put off or miss out on trips /events /outings because of your dog's behaviour?
Are you scared of what you might return to when you leave your dog alone?
Do you get embarrassed by your dog's behaviour in public?
Are you at a loss on how to change your dog's behaviour?
Are you thinking your only option is to get rid of your dog?
I'm here to help! If you are ready to change?
Congratulations, by looking at Kat's 4 Dogs on the Sunshine Coast you've taken the first important step to modifying your dog's behaviour and getting your life back. Don't stop there though, call me NOW on 0488 908 048 to prevent things getting worse. Start you dog training journey with Kat's 4 Dogs.
If you are experiencing any of these dog behaviour problems, I can help


Barking


Aggression


Destructive or Obsessive Behaviour


Biting


Hyperactivity


Jumping


Separation Anxiety, Car Anxiety


Social Fear


Pulling on Lead


Aggression on Lead


Digging


Obedience Issues


Toileting in the House


Not Coming When Called


And So Much More …
So often I hear owners saying that their dog will grow out of their bad behaviour. Unfortunately, dogs don't grow out of behavioural problems unless changes are made. A dog's behaviour left unchecked will lead to problems intensifying.
I believe that a dog's bad behaviour is a cry for help and only the owners along with my methods can help.
Please don't let you or your dog suffer any longer.
Katrina Boyd, Dog Training & Behavioural Specialist, Sunshine Coast,
Phone 0488 908 048
Feeding the Pack – the right way to feed your dog
This dog training video shows you how my girls respect me and each other at feeding time. See more of my Dog Training Videos here »