RATED BUDERIM's NUMBER ONE DOG TRAINER!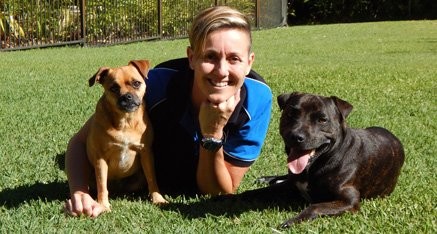 Welcome to Kat's 4 Dogs, Dog Training Buderim
Dog Training Sunshine Coast area only.
Is your dog making life difficult for you and your family?
Do you put off or miss out on trips /events /outings because of your dog's behaviour?
Are you scared of what you might return to when you leave your dog alone?
Do you get embarrassed by your dog's behaviour in public?
Are you at a loss on how to change your dog's behaviour?
Are you thinking your only option is to get rid of your dog?
I'm here to help! If you are ready to change?
Congratulations, by looking at Kat's 4 Dogs in Buderim you've taken the first important step to modifying your dog's behaviour and getting your life back. Don't stop there though, call me NOW on 0488 908 048 to prevent things getting worse. Start you dog training journey with Kat's 4 Dogs.
If you are experiencing any of these dog behaviour problems, I can help


Barking


Aggression


Destructive or Obsessive Behaviour


Biting


Hyperactivity


Jumping


Separation Anxiety, Car Anxiety


Social Fear


Pulling on Lead


Aggression on Lead


Digging


Obedience Issues


Toileting in the House


Not Coming When Called


And So Much More …
So often I hear owners saying that their dog will grow out of their bad behaviour. Unfortunately, dogs don't grow out of behavioural problems unless changes are made. A dog's behaviour left unchecked will lead to problems intensifying.
I believe that a dog's bad behaviour is a cry for help and only the owners along with my methods can help.
Please don't let you or your dog suffer any longer.
Katrina Boyd, Dog Training & Behavioural Specialist, Buderim,
Phone 0488 908 048
Feeding the Pack – the right way to feed your dog
This dog training video shows you how my girls respect me and each other at feeding time. See more of my Dog Training Videos here »
Dog Training in Buderim
Struggling with your dog's bad behaviour could prove quite overwhelming. Besides the occasional embarrassment your dog's behaviour causes you, he could also leave you with lasting regrets in the long run.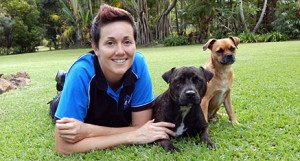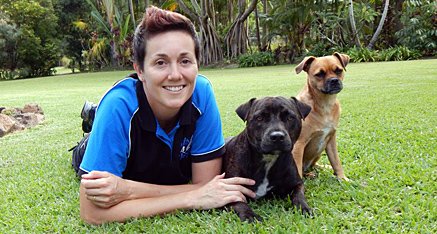 Although many dog owners may overlook their dog's bad behaviour and resign themselves to fate. However, it is best to resolve this problem at the earliest stage to avoid recurrence and avoid constant embarrassment. If you're looking for a dog training and behavioural specialist in Buderim to train your dog, I can help you.
Why You Need a Professional
Like most people, you are unhappy with your dog's behaviour, and have made efforts to correct this behaviour yourself. Also, there is a greater chance that your efforts have failed to yield the desired results. For instance as dogs and humans have developed healthy interactions over recent centuries, they share similar traits. Hence, you might assume that adopting a human approach works for your dog's problem, but it doesn't work.
However, with my thorough understanding of dog psychology, I can offer you effective solutions to your dog's behavioural problems.
Why Choose Me?
Over the years, I have built a strong reputation as a dog trainer with over a decade of experience. By helping dog lovers on the Sunshine Coast cultivate the desired behaviour in their dogs, I have established an ever-growing customer base over the decades. I have achieved significant success with my clients using my unique approach to dog behavioural training.
My Approach to Dog Training Buderim
As a leading specialist in dog behavioural modification, I have a unique approach to dog training that guarantees success every time, including:
I carry out an extensive research of your dog's local environment to help identify the underlying factors that could be responsible for your dog's bad behaviour. This helps develop tailored solutions that ensure lasting success.
Contrary to public opinion, there is no universal approach to dog behavioural modification. Hence, there is a need to adopt specially crafted strategies that recognises the needs of each dog. As well as ensuring the success of my programs, specialised training help you establish healthier relationship with your dog.
As part of my effort to ensure that your dog's training is effective, I provide my clients with continuous support even beyond my programs. In addition to providing my clients with a direct channel of communication, you will find lots of relevant content that helps you take better care of your dog on my website.
My Services
Here at Kats 4 Dogs, I offer a wide range of services to my clients to provide them with full solutions to all their needs. These include:
Obedience Class
Group Therapy
Puppy Program
Behavioural Training
Contact Me
Got any questions for me? Call me, Katrina Boyd, Dog Training & Behavioural Specialist, Buderim on the Phone at 0488 908 048.