Puppy School
Puppy School is the most important thing you can do for your dog outside your home environment between the ages of 8 and 16 weeks.
Socialising your puppy is so crucial to your puppy's overall development if it is done correctly.
Over the years I've heard so many people say that they don't need to come to puppy school. I say that would be like saying your child doesn't need to go to school.
Your dog needs to understand how to behave in a social environment. We need to prepare them for life and this is the starting point.
Please do not assume that your puppy is properly socialised if it has played with the dog next door or if you own another dog. Puppies need to interact with other puppies to truly benefit. If you are unsure please give me a call on 0488 908 048 and let's chat about it.
If a puppy isn't exposed to other puppies in a controlled environment at an early age you will most likely find your dog will have issues with other dogs later in life.
My puppy schools are fun and extremely educational. Yes, you will be taught how to get your dog to come, sit, stay, drop and walk properly on lead but you will get so much information on behaviour and how to get it right from the beginning.
They only need 1 vaccination to attend.
Kats4Dogs Puppy School Locations
Doonan, Kat's 4 Dogs Training Centre
Maroochydore Vet, 29 Maud St, Maroochydoore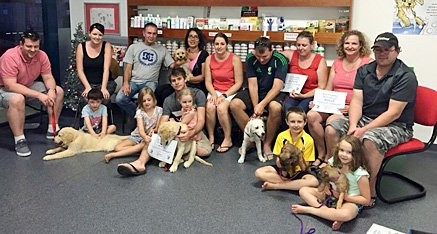 PUPPY SCHOOL VIDEO
If you are looking for a professionally run puppy school on the Sunshine Coast, a puppy school that will educate you on behavioural issues and give you loads of information to help you raise your puppy, don't look past Kat's 4 Dogs puppy schools!