Dog Training Testimonials for Katrina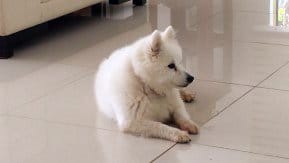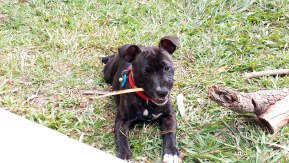 Stella and Kenya
Katrina – thank you very much for the session yesterday. There was sooooooo much in there, and I think there is a huge mindset shift for our family – we are excited to commence the journey.
As we speak, I am in the office (solo) and there is peace in the house – both dogs on their respective beds in the lounge area on a tie (for now) until Stella relaxes and Kenya stops bugging her.
I feel already we have made a small step forward – and that is what it is all about … small steps forward.
There is an old saying in Africa "How do you eat an elephant? … Just one bite at a time" … and that is exactly what we are going to do with this journey.
Thank you for your commitment and passion … and for making a difference.
Cheers
– Nicky
Kat's 4 Dogs Dog Training and Behavioural Specialist Sunshine Coast
---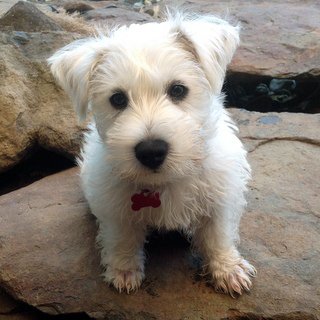 Oscar
Oscar is our third Westie and knowing how important training is for this breed we had decided that of course we would start with puppy training. As Oscar is my husband's dog I thought I wouldn't have to go with him to classes as having been through the process a few times I didn't think I would get anything out of it and was mainly for socialisation before he started obedience training.
After a few false starts and a bit of research we decided to try Katrina's Kats4Dogs. John thought I should attend classes so off we went.
What a surprise!!! This would have to be the best possible start you could give your puppy. This was so different from any of the puppy classes we had been to before. The concepts and ideas Katrina gave us have been invaluable. We were definitely given the tools to train our puppies and understand their thinking a bit better.
Our older Westie, Rosie, has benefited too and some of the concepts, especially of calming will be of great help to her.
I believe puppy training is extremely important to start you on the path to having a well behaved dog who is a joy to have. You couldn't do better than Kats4Dogs. It is worth every cent.
Kind Regards
– Chris
Kat's 4 Dogs Dog Training and Behavioural Specialist Sunshine Coast
Hi Katrina (Kat's 4 Dogs),
Twelve years or so ago Fergus was our first Westie. Having read up on the breed we knew socialisation and training were essential when you own a Westie. After puppy school, obedience training and advanced obedience Fergus just about had us trained exactly as he wanted. You should have seen him in action training any visitors to our house in the manner in which he wished to play.
He was so engaging that he got away with it. Westies are very intelligent but are not noted for their obedience.
Our second Westie, Rosie, my wife's dog was a lot quieter than Fergus and far better behaved with respect to walking and wandering off. She was restricted though by Fergus in what she was allowed to do. You can chase a toy that has been thrown but you are not allowed to pick it up.
Now to Oscar our third Westie and current puppy. We intended to start him on obedience training in February so I wanted puppy school for some socialisation before the training started, neither of the two puppy schools we had been to before did anything particularly useful regarding behaviour, training etc, so we had no real expectations there.
What a surprise we got when we went to your puppy class, controlled socialisation instead of mayhem, dogs being introduced slowly with over exuberance corrected as required. Big dogs, small dogs, immediate reading of behavioural interactions with many dogs playing together, correction applied as necessary.
Basic obedience training with a difference. Pick the most difficult dog which has not been taught something and within a few seconds the dog is doing what is required. Simple training techniques that work.
Fergus never learnt to walk without pulling on the lead. A quick introduction by you on loose leash walking and Oscar looks like he will walk like a champ. Excellent advice for dog behavioural problems at home often demonstrated on the spot, an emphasis on calming dogs and never rewarding exuberance or fear.
Thanks Katrina, we got a lot more out of it than we expected. Oscar is currently doing his eight weeks of obedience. Rather than do advanced obedience we'll do your group class at 6 months.
Thanks and regards
– John and Oscar
Kat's 4 Dogs Dog Training and Behavioural Specialist Sunshine Coast
---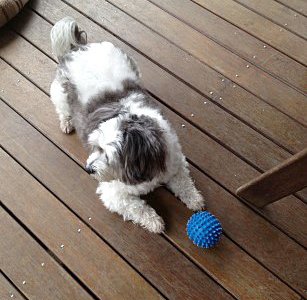 Mia
We were at our wits end with our precious little Mia, worried constantly about what we would come home to, break outs, ripping and chewing Security Screens, Poo's and Wee's, torn fencing, the horrible feelings and thoughts we would have towards our Mia, when a dear friend who is an Australian Working Dogs rescuer, sent us a link to Kat's 4 Dogs.
We had tried herbal remedies, coats, diets, you name it, we did it, so we thought we would give this Katrina a go.
As soon as I spoke to Katrina and heard what she had to say, I thought maybe there was an answer to all this destruction and anxiousness, so we set up an at home consultation and that was the start of the most awesome relationship we have ever had with our 8 year old Shitzu/Maltese.
There was an immediate ease and within 15 mins, Katrina had Mia behaving like I had never seen before, after 45 mins I didnt know who's this dog was, relaxed and calm, and after 3 hours we felt empowered and ready to do all the things Katrina had taught us, YES us, not the dog. We followed Katrina's instructions to the letter, it was amazing being the pack leader for once, and in return, we had the most happy, relaxed little Mia.
What Katrina gave us what an understanding of how we as humans treat our dogs as human and do you know it is the most inhumane thing to do, we now look forward to walks and outings with a very happy and relaxed Mia.
We can never thank you enough, so please when you think there is no hope and like us you feel so frustrated and angry, just give this wonderful Lady a call. You will just love her like we do, so thank you Katrina xoxoxoxox
– Christine Dawe
Kat's 4 Dogs Dog Training and Behavioural Specialist Sunshine Coast
---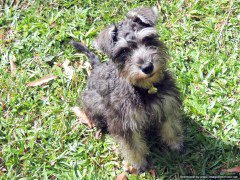 Daisy
I recently used the services of Katrina Boyd from Kats4Dogs and was so impressed with her skills. Katrina came to my home and spent 2 hours with myself and Daisy, my Miniature Schnauzer.
Katrina has a very gentle but no nonsense approach to training and Daisy responded very well to her methods.
I highly recommend Katrina to anyone who is seeking help re behavioural problems or simply needs assistance in training their dog in the correct manner.
Katrina gives you all the right skills to handle your dog and help you form a strong and loving relationship with you as the leader. Thanks again Katrina.
Regards,
– Heather Stokes
Kat's 4 Dogs Dog Training and Behavioural Specialist Sunshine Coast
---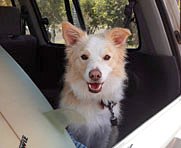 Straight from the dog's mind – What Banjo really thinks!
Dear Aunty Katrina / All-time best human trainer that ever walked the planet, being adopted is hard. When they picked me up I found out my new parents didn't even speak the same language as me and to top it all off, they hadn't ever even been masters to a dog before so they really just didn't know what they were doing.
Didn't they know being a working dog is in my blood and that I am really really smart and that they were going to have to prove to me that they were smarter than me if they wanted to be my master?
I realised pretty quickly that I wanted to be the leader of this pack. My new parents really tried and they certainly love me to bits (after all I am pretty darned good looking and a sweet pooch at heart) but I was too smart for them and pipped them at every turn.
But then Mum found you.
At first I was just relived because at least you spoke the same language as me (which Mum and Dad certainly still didn't) but then you started teaching them how to be the leaders of the pack which I wasn't so into. I do love you Aunty Katrina but you have really changed my life and now I can't get away will all the fun naughty things I used to.
Far out you made it tough for me to keep winning – not only did I have puppy school with you but you started showing up all over the place – at my house, in my yard, on walks, in the park!
At first I thought just by showing off and doing stuff right at puppy school I could get away with still doing whatever I wanted at home and outside of class. Most of puppy school was pretty easy for me because like I say, I am very smart – "sit, stay, leave it", ha! Surely even a cat could do that.
I made Mum feel like she was going crazy because everyone thought I was so well behaved at school and then we would get home and I would just do whatever I wanted and she couldn't get me to stop. Even though I am really lovely I even had to start nipping them when they were bossing me about to show them that I was the pack leader.
Mum thought you had magical powers at first because I would do what you said but not what they said but then over time you trained Mum and Dad how to communicate better with me and provided them the perfect solutions to all the tricks I was pulling to show them who was the big dog in the pack.
Puppy school was fun and made me feel like I was working which I loved but it was really the home training that ended my reign of household domination. I was pretty darned persistent so Mum thinks you were like an angel coming and seeing me in action in my own environment so you could really help them get to the core of why I was acting out.
Even after I lost my puppy teeth, I really enjoyed chewing on anything I could especially if my folks let me out of their sight in the house even for a moment – I had a lot of fun chewing window sills, doors, computer and camera cables, shoes, anything hanging on the line, outdoor furniture and cushions – the list is endless. Ahhhh, good times.
Mum and Dad tried all sorts of things they read about on the internet like spraying me with water, putting yucky tasting stuff on things I liked to chew or giving me other things to sink my teeth into but none of that worked on me. I was the leader of the pack and the only way they were going to be able to get me to stop is by showing me they were going to be the leaders.
After you trained Mum and Dad how to control me in the house I am now trustworthy and can be left alone without anyone having to worry about my safety (either from very dangerous things like chewing on cords or by what might happen to me if Dad caught me eating another pair of his thongs). I even know when it is time to relax and go straight to my designated spots in the house when asked where I am allowed to sit calmly and wait – I like knowing my job even if it's just to wait.
There are too many other things to list that you have trained them how to fix – I am no longer freaked out totally by the sound at the lights when the little green man says we can walk. I chew only my own toys. I am lovely with small children instead of jumping up on them and knocking them over. I don't nip my parents (or anyone). I wait on my spot when a visitor arrives at the front door instead of crying and trying to jump up at them and lick them (at least for a few moments). I prance like a pony when walking on my lead most of the time. I (mostly) do as I am told.
There are still some things Mum and Dad are working on (like that I am still adamant about barking at possums or birds that dare come into my yard) but the difference is that now you have trained them how to cope with me they know how to calmly assert their wishes and show me they are now my masters.
Even though I wish I was still the leader of the pack I have to say it is more fun now Mum and Dad have a better idea how to really be my masters – they get to enjoy walks with me and take me on holidays and lots of fun places they just couldn't trust me before.
You have been tirelessly dedicated to helping me and my parents be a happy family and we can't tell you how awesome we think you are – even in doggy language there are not enough words to express what an amazing difference you have made in our lives.
I could never dream a human would be so passionate and dedicated about what they do (I thought only dogs were that loyal) – taking desperate phone calls, emails and visits with my folks – you are truly an angel to us doggies and masters. Thank you.
– Lots of licks and tail wags, Banjo the 2 year old Border Collie (translated to English by my Mum and Dad / Masters Steve and Haley Bellamy)
Kat's 4 Dogs Dog Training and Behavioural Specialist Sunshine Coast
---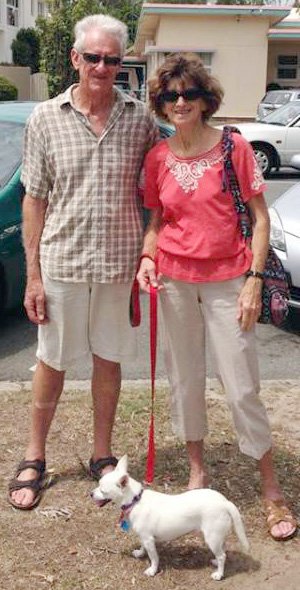 Molly – From Menus to Marvellous
To all dog lovers with problem dogs, Molly is a 4kg Chihuahua/cross rescued dog who charms humans but was anti-social with other dogs. We were embarrassed to take Molly for walks near other dogs.
We called on Katrina Boyd to help us change Molly's anti-social ways. After 2 hours of assessment, Katrina & ourselves, took Molly for a walk to meet other dogs. The difference in her behaviour was astounding.
After a further 2 weeks of training, we met Katrina for a river walk at Noosaville. Molly passed the test with A plus results. We would highly recommend Katrina Boyd for all dog problems.
– Barrie & Val Bedding
Kat's 4 Dogs Dog Training and Behavioural Specialist Sunshine Coast
---
Kats 4 Dogs to the rescue!!!
Katrina has been helping us with one of our gorgeous rescue dogs, Chloe the American Bulldog, and we are already very impressed with the changes we have seen in Chloe.
Late last year Silver Lining Pet Rescue saved Chloe from the pound on the day she was due to be PTS, she was an abused dog and came to us very timid and unsure of everything.Chloe has regained her confidence with the help of her loving foster family and is now a very happy, healthy girl but has probably been a little over-loved and has no rules or boundaries!
We called on Katrina to help Chloe learn her place in the house so she can be a well mannered and well rounded dog in preparation for finding her forever home. We are very excited to be working with Katrina and we are so very grateful for her support, thank you so much Katrina!
– Silver Lining Pet Rescue
Kat's 4 Dogs Dog Training and Behavioural Specialist Sunshine Coast
---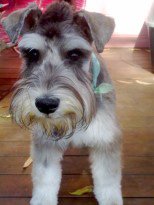 Lovable Louie
Hi Katrina,
We just wanted to touch base to say thank you for all the input you have had with Louie.
We were lucky enough to attend your puppy school and we loved the approach you took with a focus on the puppy's behaviour, the socialisation of the dogs, obedience skills for dog and owner and education on how our actions impact our dogs and how to prevent behaviour problems.
I was expecting a far less comprehensive introduction to owning a dog based more on physical health needs and basic obedience and I felt so lucky that it was your school that we ended up choosing.
A few months on and with the plan of introducing another puppy we had a home visit to ensure we were doing the best for Louie and the soon to arrive Olive. We could immediately see a change in Louie with increased structure and a week on we are noticing a calmer more cooperative dog.
We found it so helpful to have the plan of action we should take with each behaviour that we wanted to address, such as: where to calm his mind, how to encourage good lead walking and how to address his barking, 'reclaim the fence' now rings out if we hear him barking out the back and we swing into action!!!
I see your input as extremely valuable for anyone who loves their dog and has a desire to do the best for the dog mentally as well as physically. I have, and will continue to sing your praises to anyone I know who owns a dog. We will certainly be attending the next phase of training for Louie and will be bringing Olive along for puppy school when she arrives.
We really appreciate the impact you have had on helping us enhance a strong and healthy bond with our dog.
Kind regards
– Eliza and Cory
Kat's 4 Dogs Dog Training and Behavioural Specialist Sunshine Coast
---
Runaway Sava
In what way can a person express such an amount of gratitude for giving you back what you felt was lost???
I called Katrina from Kats4dogs in a desperate attempt to stop my Staffy from running away it had been a good 10 months of this but she would always come home however it was becoming a real problem not only for her safety but others.
Having to keep rescheduling with Katrina due to medical issues and appointments we finally had our first assessment and wasn't it a doozie. So on my initial assessment after not more than 30 minutes Katrina decided Sava/we would benefit from some in home rehab. Being a mother of 3 small children with hubby working away and just having a major operation I welcomed this knowing all I wanted was the best for my girl.
I could not be more grateful to Katrina and her lovely partner. They did more than they will ever know. I know Katrina was not only concerned about Sava but me as well. (When do you meet that when dealing with your animal and a trainer) Sava was showing signs of severe anxiety when Katrina came here. Without hesitation Katrina said can I take her for a week.?.. From the look on her face I know this shocked not only me but Katrina as well. With no hesitation at all I said yes. I wanted the best care for my girl and this was it. So after another 30 minutes of chat they left. Safe to say I was anxious lol.
Not more than a few hours later Katrina sent me a video of Sava Playing with her dogs and having a lovely time. With my anxiety allayed I was eager to see how the rest of the week went.
Without me asking I got daily messages and videos of Sava's progress in her rehab and wasn't she doing well. This is the dog I used to know. Within just a short few days Katrina had all but fixed her food aggression with other dogs, her jealously issue with other dogs during affection and others I didn't know even existed.
So after a week of much needed respite for both of us Sava came home on Friday. Safe to say I was a bit anxious about her coming home with thinking can I do this? Can I be the leader she needs? So it came and Sava was home. Katrina and I sat and talked about what needed to change, what she (Sava) needed day to day and so on. Not once did Katrina belittle me, make me think I was a crap owner (as most can do) and she stayed with me till there was calm and everyone was comfortable (which was a few hours). Bless her.
So sending her off Sava was acting a perfect dog. The first couple of days were hard I'm not going to lie. Trying to give 3 kids and a needy dog the most 'positive' attention was not easy and there was sight of the old 'Sava' wanting to flee and run but with a calm manner she came back rather easily. So it's been a week and what an amazing week it's been. We have all been enjoying the more positive environment that now evokes our house but our beautiful dog. My kids and I love her to the moon and back.
So I guess what I'm saying is I know without meeting Katrina and having her help us with Sava I wouldn't have my dog right now. I've met and spoken to many dog behaviourists and Katrina is by far the best. Her connection with them is unbelievable and we will be forever indebted to her for not only her skills as an amazing dog trainer but also her kindness and generosity.
I would recommend Katrina (and have already) to anyone needing a great and passionate trainer.
– Kim, Sava and Kids xx
Kat's 4 Dogs Dog Training and Behavioural Specialist Sunshine Coast
---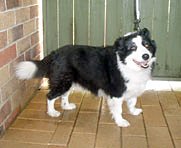 Ellie – the dog nobody could groom!!
To Katrina Boyd
My 12 year old Border collie Ellie and I would like to share our experience with you at Katrina's.
My Ellie was badly treated in her younger years so she became very fearful, aggressive and defensive and did not trust anyone. I could never touch her hind legs or brush her. Visiting a vet was a joke; they were all scared of her.
Taking her for a walk was testing – she wanted to attack every dog getting close to us.
Katrina has dogs of her own and I was apprehensive about Ellie's behaviour. She introduced the dogs, played with them, took them for a walk and rewarded them. Her calm and confident behaviour, firm but friendly approach and handling, relaxed Ellie and she accepted to be one of the group. When she stepped out of line, one of Katrina's dogs pulled her back. What a great training Katrina's dogs had.
Later, Katrina decided to cut Ellie's matted coat, the fur between her paws and her nails.
Good luck Katrina, you will need it… But she did not need any luck. She knew exactly how to treat the wriggling, snarling and biting Ellie. Katrina was firm, but without force, professional and determined, but passionate. She was in charge – Ellie gave in.
Ellie no longer scratches, takes anti-itch medication and uses anti-allergy shampoos. She is a happy girl, her skin is healthy and her coat shiny. She does not want to attack every dog anymore and even the vet is surprised.
My confidence in Katrina? – 100%. She is professional, firm, consistent and totally dedicated.
I have no hesitation recommending Katrina and her services to any owner who cares and loves their pooch.
Thank you Katrina.
– Judith Skalina – Forest Lake Qld 4078
Kat's 4 Dogs Dog Training and Behavioural Specialist Sunshine Coast
---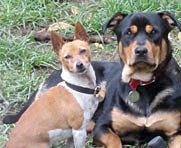 Lola and Erik – Rehabilitation and Rescue dog success story
Hi Katrina,
Just wanted to drop you a line to say thank you so much for all your help, and to share with people in QLD who may be looking for help with their dogs our story.
It sure has been a roller coaster ride! Your house visits greatly improved Elke (greyhound) and Lola's (mini-foxi) separation anxiety, and meant we had the tools to help our dogs relax.
Last year when Elke passed away we were heart broken and so was little Lola. Once again we required your assistance and support to work with getting Lola back into a calm routine. You showed great compassion not only for Lola but for myself and Harriet in a time that was incredibly challenging.
From March to December last year we did all the exercises and training you showed us and bit by bit all of us learnt to relax and laugh again. Lola went from extreme OCD barking and pacing the yard and behaving fearfully when faced with unfamiliar people, to seeing her yard as a place to relax and enjoying new people throwing a ball for her.
We spoke at length about getting a second dog when the time was right, in December that time arrived! Thank you for taking the time to help us settle Erik the rescue rotti in. You helped us gel our pack together and we couldn't be happier.
Lola and Erik enjoy each others company and make us smile every day with their games in the yard. Your humour, patience and compassion make you outstanding at what you do. Your insight on not just training but behaviour of dogs and humans has been the key.
You will be missed here in Sydney, I hope Noosa knows how lucky they are to have you!
– Lots of love Bernie, Harriet, Lola and Erik
Kat's 4 Dogs Dog Training and Behavioural Specialist Sunshine Coast
---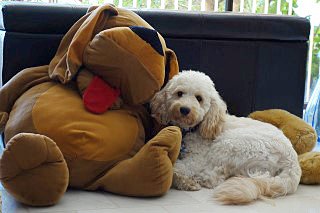 Molly – Who's taking who for a walk?
Thanks Katrina for your expertise in training me so I could enjoy my beautiful 15 month old dog Molly, she has responded so well to my training that she actually reminds me what to do if I forget.
I certainly don't miss those runs Molly used to take me on I now take "her" for a "walk" instead which is much more pleasurable, the neighbours want to know where Molly is because they don't see me flying past anymore, think they thought I was in training for some marathon "NOT" my legs and arms thank you Katrina.
Molly is very high spirited and as I have aged had forgotten what it was like to have a child in the house one that actually wanted me to give her direction and guidelines and you showed me that Katrina of which I am very grateful.
I have control over Molly now and it feels great for both of us, we still have our rebellious moments but I know how to handle that now.
I consider you the Dog Owners Angel, our very own Dog Whisperer, Thankyou once again.
Kind Regards
– Rosemary and Molly
Kat's 4 Dogs Dog Training and Behavioural Specialist Sunshine Coast
---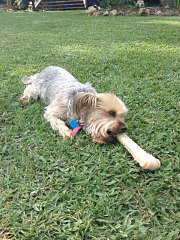 Susie – the dog that would attack
Hi Katrina,
Just wanted to say thanks for all you have done with our dog Susie.
You took Susie under your wing and transformed her from a dog that would bark and lunge at every other dog, to a dog who we can now let off the lead in the dog park and feel at ease that she will not attack them all.
She still has her moments, but at least she is starting to associate with them, something she has not been able to do before. It's three steps forward and one step back at the moment.
Your training methods are impressive and very effective. Thank you Katrina you are a treasure.
Kindest regards
– Dianne and Peter Ansett
Kat's 4 Dogs Dog Training and Behavioural Specialist Sunshine Coast
---