Adolescent Class/Obedience Training
Adolescent Class is designed for dogs 5 months to 2 years.
This is the next group stage after Puppy School.
What you and your dog will learn
In this course your dog will continue its learning and development from an obedience point of view. 
Walking on lead is a big focus but I will also be strengthening your dogs impulse control and ability to make good decisions.
Once puppies start to move into their adolescent stage they can become distracted very easily, this course is designed to educate the owners on how to deal with their dogs in many situations.
My adolescent class/Obedience Class is more like a work shop, you won't find any other like it on the coast.
Once you complete this 4 week course you can then attend the Saturday morning Confidence Building, obedience and Socialisation class. This is a weekly class and you can come and go as you please.
Social development
Something that we don't do enough of is continuing your dog's social development.
In this obedience class your dog will learn more about social interaction on and off lead.
You as an owner will learn how to read your dog's body language and get a better understanding of your role as a leader when your dog is off lead.
You will learn how important it is to teach the dog's limitations to their play as well, it is extremely important that you don't allow the dogs to play at a high level of intensity which can create problems and also understand when to let your dog off lead which is just as important.
We will also be fine tuning their overall obedience.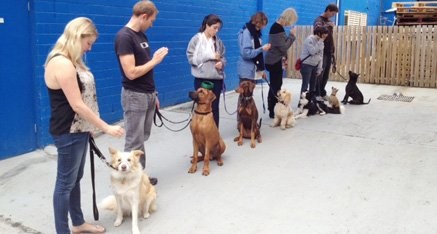 ADOLESCENT CLASS VIDEO

Check out my adolescent level 1 class! All dogs aged between 6-7 months. Great development, look forward to level 2. Dog Training and Behavioural Expert.
Give Kat's 4 Dogs a call on 0488 908 048 if you would like to find out more about my Adolescent/Obedience Class for your dog. Obedience Class on the Sunshine Coast. Classes run at Kat's 4 Dogs Training Centre Doonan.